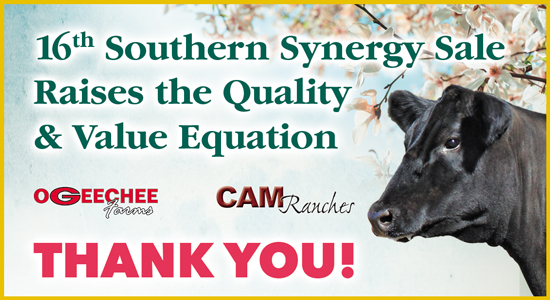 Southern Synergy Sale Raises the Quality & Value Equation
Angus beef production is different today. Full stop. The Angus breed, more than any breed in America, can accurately quantify value throughout the entire production system and into consumers' shopping carts. For two decades, the Southern Synergy partnership of the Smith, Lamb and McPeake families committed to doing just that. Their motto to "Trust the Process" requires the discipline and commitment to breed registered Angus seedstock with the inherent capacity to excel, regardless of marketing end point.
High selling female was Lot 1B, sired by GAR Home Town out of a GB Fireball daughter. This tremendous female checks all the quality boxes! Double digit CED, top 2% YW, +2 marbling and +1.45 ribeye places this elite female above all others. The discipline behind her proven pedigree guarantees her ability to pass on the highly heritable value traits to her progeny. Tall Timber, Millen, Ga., outlasted the competition with a winning bid of $115,000 for half-interest in Ogeechee Home Town K230.
Read the rest of the sale report here >>>
Read the sale book here >>>
CAM Ranches bulls sell in these upcoming Gardiner Angus Ranch sales
19th Annual Fall Production Sale • September 25, 2023
7th Annual Early Bird Bull Sale • January 22, 2024
45th Annual Production Sale • April 6, 2024
9th Annual Meating Demand Bull Sale • May 6, 2024
The Southern Synergy partnership between CAM Ranches and Ogeechee Angus Farms is a commitment to designing better beef using the most accurate and reliable tools available to seedstock producers. The results are some of the most predictable females available in the Angus breed today. Their sibling brothers compete at the highest level and are marketed at Gardiner Angus Ranch in their four sales each year. The opportunity for profitability reaches every segment of the supply chain.
Learn about our CAM Nutrition
custom mineral products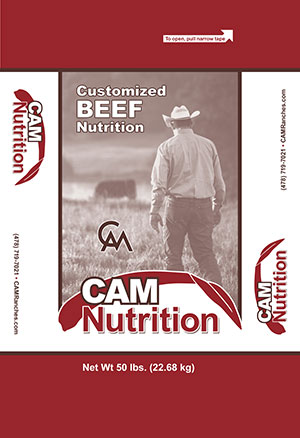 Read our "From the Field" blog